"Professional Link Cloaker & Tracking Service"

Cloak Your Long Affiliate Links!
Short URL Links With Full Tracking!
Daily Statistics and Affiliate Program!

Are you tired of sending your emails with long affiliate URLs that break making the recipient have to go through the work of copying and pasting it into there browser window?

Are you tired of accessing one program to create a cloaked url and then having to access another one to track it?

If you said yes to the above questions than we have what you need to save time, and as you know time is money when you are promoting on the Internet.

We have created this program with you, the very busy Professional Internet Marketer in mind.

Change this: http://www.ezdemosite.com/cloakerdemo/page/home.html

To this: http://www.ezdemosite.com/cloakerdemo/a01

Cloak your long affliliate URL


Free Membership Benefits
• Shorten Unlimited URL's
• Earn $3.00 Monthly for each pro member you refer.
• FREE Downline Builder


Pro Membership Benefits
• Shorten Unlimited URL's
• IP and Date time detailed stats for all the hits for last 7 days
• Earn $4.50 Monthly for each pro member you refer.
• Get Random Referrals.
• No Top Frame with banner advertisement with your shortend url.
• FREE Downline Builder
• Email Your Referrals Every 7 Days!
• Upgrade To Pro Only 9.99 A Month!




Add any text or advertisement you want here.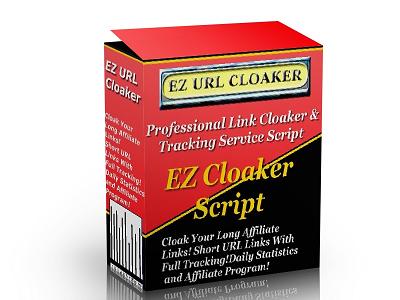 With the EZ URL Cloaker Script, you can host your own URL Cloaking Service with a built in affiliate system while earning a nice income by selling advertising and pro memberships. (Hosting Required).

Below are some of the Awesome Features of this script.
Some features of this demo have been dissabled to prevent abuse.


Payment Processors:
Paypal - Alertpay - Egold

Admin Area Features:
--Email all members or choose any member to email to.
--View/Edit all members details.
--Delete members.
--Edit downline builder and set your own categories etc.
--Admin decides how long members stats are available.
--Admin can choose to have a logo or just plain text show in the top frame.
--Choose between free and pro membership levels or both.
--View detailed stats for all members etc.
--Set pricing for top and bottom banner ads.
--Set commission levels for both free and pro members.
--Plus More!




Members Area Features:
--Send html email to your downline referrals.
--Cloak long affiliate url's.
--Earn commissions from paid upgraded referrals.
--Downline builder.
Plus much, much more!

Admin area login:
Click Here For Admin Area Demo
User = admin
pass = admin

Please join this demo to see members area.





Click Here To See A Live Site Using This Script




Server Requirements:
1.) Unix/Linux Server
2.) MySQL (version 3.23 or higher)
3.) PHP (version 4 or higher)
4.) Crontab


Terms and Conditions:
Script comes with one (1) domain name license.
Additional domain name licenses can be purchased for
an additional fee of $50.00.
You cannot sell/lease the script in any way.
All sales are final with NO REFUNDS!
We do offer free limited support.
Installation is available for $20 per install.
We also offer webhosting for additional fees if needed.

NOTE! You MUST provide the domain name your loading
the script on when ordering.
Price: $125.00 $85.00

Click Here To Purchase.








Your 468x60 Banner Here